Develop measures in the real world
At PatientsLikeMe, we think it's vital to create measures that focus not just on a disease, but on the people who live with it every day. That's why, working with the Robert Wood Johnson Foundation, we created the Open Research Exchange (ORE).
ORE is an online platform with the software and tools researchers need to develop and test new patient reported outcomes measures with patients.
It's all part of PatientsLikeMe, a network with more than 380,000 people who actively share their experiences with 2,500+ different diseases and conditions to help themselves, help each other, and advance research. And they're ready to help you develop your next measure.
What can researchers do to engage patients?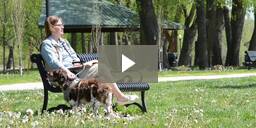 Our Team of Advisors gives feedback on research initiatives and is helping to create new standards for engaging patients in research. Hear the perspectives of two members, Karla and Lisa.
---
Learn more about the researchers who are using ORE
Our pilot participants include some of the leading research institutions in the world
---